OUR MISSION
The mission of the Idaho Youth ChalleNGe Academy is to intervene in and reclaim the lives of 16-18 year old high school dropouts, producing program graduates with the values, life skills, education, and self-discipline necessary to succeed as responsible and productive citizens of Idaho.
WHO WE ARE
IDYCA a holistic, quasi-military, fully-accredited residential high school academy (NOT a boot camp, detention or treatment facility), utilizing discipline and structure, to ensure a productive learning environment. Open to all 16-18 year-old Idaho residents. Participation is voluntary, and tuition-FREE.
IDYCA Testimonials
See what our graduates are saying. For more testimonials, see our Success Stories page.
…special thanks to the TSgts that were the everyday teachers…
I thank you all very much for breaking me down and making me into the strong minded physically fit man I am today, a special thanks to the Tsgts that were the everyday teachers, and the staff that helped a long the way. Thank all of you.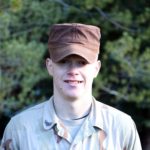 15-2 Cadet Hoiland (Challis)
Our Location
See our travel directions...Quick tips:
If you hit a gravel road, you are going the wrong way.
Do not follow your GPS, if you do not want to get lost.