OUR MISSION
The mission of the Idaho Youth ChalleNGe Academy is to intervene in and reclaim the lives of 16-18 year old high school dropouts, producing program graduates with the values, life skills, education, and self-discipline necessary to succeed as responsible and productive citizens of Idaho.
IDYCA Testimonials
See what our graduates are saying. For more testimonials, see our Success Stories page.
Giving up is not a option here, success is.
(Addressed to future Cadets) I've been told some of you cadets don't believe you're going to pass English. I thought the same going into Mrs. Therien class, not knowing how to write an essay, spell correctly, read, or even pronounce words. I gave up before trying or giving any effort. I just thought to myself,… Read more "Giving up is not a option here, success is."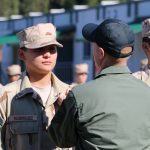 15-1 Cadet Rodriguez (Caldwell)
Our Location
See our travel directions...Quick tips:
If you hit a gravel road, you are going the wrong way.
Do not follow your GPS, if you do not want to get lost.