OUR MISSION
The mission of the Idaho Youth ChalleNGe Academy is to intervene in and reclaim the lives of 16-18 year old high school dropouts, producing program graduates with the values, life skills, education, and self-discipline necessary to succeed as responsible and productive citizens of Idaho.
WHO WE ARE
IDYCA a holistic, quasi-military, fully-accredited residential high school academy (NOT a boot camp, detention or treatment facility), utilizing discipline and structure, to ensure a productive learning environment. Open to all 16-18 year-old Idaho residents. Participation is voluntary, and tuition-FREE.
IDYCA Testimonials
See what our graduates are saying. For more testimonials, see our Success Stories page.
…it was the best decision I have ever made…
(To Future Cadets) Welcome to the best decision you have ever made. If you let it, this academy will truly turn your life around. Scary isn't it? Don't worry, the staff of the IDYCA truly care and will do everything to get to the top that you know you can get to. Keep pushing, do… Read more "…it was the best decision I have ever made…"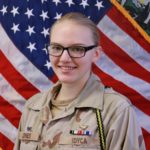 17-2 Cadet Jones (Bovill)
Our Location
See our travel directions...Quick tips:
If you hit a gravel road, you are going the wrong way.
Do not follow your GPS, if you do not want to get lost.